I could not be more proud of my staff.
Each person is kind, friendly, compassionate, trustworthy, and hard-working. They share my dedication to providing you with the highest quality of dentistry in a safe and welcoming environment, and are pleased to be of service.
~ Dr. Justin Porter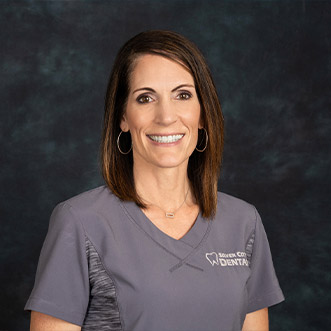 Candace
Dental Hygienist
The best part of my job? The person in the chair! Providing a positive and sometimes even fun dental experience is incredibly rewarding! I offer patient education, and preventive and maintenance care; and I assess, document, and plan treatment to address oral disease.
It is a pleasure to be part of Silver City Dental: We have a strong feeling of trust and unity, which is reflected in the care we provide.
Outside the office, my husband and two children keep me busy. I find a lot of joy being with my family and love supporting our children's extracurricular activities. I also like serving on two community boards, as well as working out, hiking, and running trails.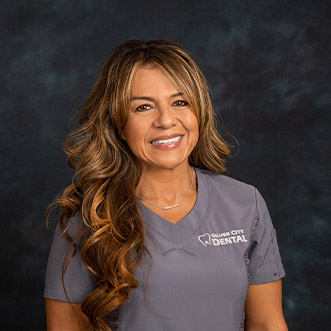 Corrina
Dental Assistant
I like interacting with our patients, while also playing a part in helping each feel confident in their smile! I assist Dr. Porter with dental procedures, make sure our patient is comfortable during their care, and take X-rays. I also prepare rooms for procedures and sterilize instruments.
Working at Silver City Dental is amazing. We all help one another, and that means our patients have worry-free visits!
Beyond work, I love to run, hike, and hunt, as well as spend time with my friends and family. My husband's name is Brian. I have two grown children, Deandra and Ethan, and two sweet grandkids, Emery and Elikai, too.
Crystal
Insurance Specialist / Account Manager
I love being able to help patients understand why we do what we do for them, clinically. I want people to be healthy, and many people don't realize that oral health has many effects on overall health. Educating patients is important! I submit claims in an orderly fashion, input all insurance payments, and handle accounting questions and details.
I really love how our team at Silver City Dental knows the importance of family: supporting one another so we can help our patients!
I am a boy mom, so I know all about broken bones and yucky bugs, though I'm still learning about sports! I have two boys: the oldest is nearly an adult and the youngest is still in elementary school. My husband is a wildland firefighter for the Tonto National Forest in Mesa. When it's not fire season, we love to travel, hike, and enjoy lake days. We have two dogs — who are also boys — so I always have my hands full, but I try and keep a pretty good sense of humor about it all!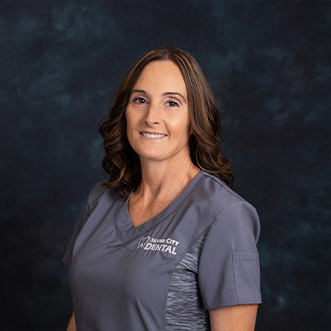 Elizabeth
Dental Assistant
I enjoy helping patients feel better about themselves by giving them the care needed to make them confident in their smiles! I provide patient care, assist Dr. Porter during procedures, and assist with IT issues, as well as helping in the front and back offices where needed.
At Silver City Dental we are like a family, working together to make sure our patients get the care they deserve!
I'm married and have five children. I love spending time with my family. I also enjoy being outdoors, especially camping, hunting, and horseback riding.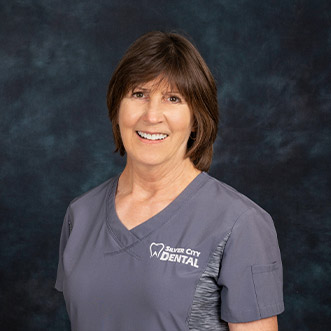 Gay
Dental Hygienist
I enjoy my interactions with patients and the "problem solving" aspect of helping people with their oral health. I provide cleanings and other preventive and maintenance treatment, along with a lot of education and support.
I love being part of the Silver City Dental family. Everyone is extremely knowledgeable and caring. I'm thrilled we have and utilize the most state-of-the-art equipment and techniques, because that is best for our patients' health and comfort!
Born and raised in Colorado, I moved to Silver City with my husband in 2007. We love the weather here, and all the fantastic outdoor opportunities. We spend a lot of time with our dog Casey, exploring and enjoying the wilderness.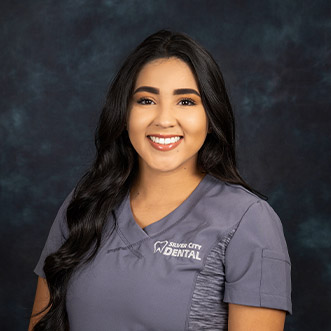 Jacqueline
Scheduling / Insurance Coordinator
I love being able to touch a patient's life in a positive way. Not only giving them a reason to smile, but actually enhancing the quality of their life. I love having a bond that encourages patients to continue making regular dental visits to keep their smiles healthy! I work in our front office: scheduling appointments and verifying insurance benefits.
This is a positive and welcoming practice, where the whole Silver City Dental team does what is right for our patients!
I've been a cheerleader for most of my life. I performed for Cheer Athletics Wildcats (one of my dream teams!) and I auditioned for the Dallas Cowboys Cheerleaders in 2017: I made it into our very first game, then decided I wanted to go to school in Albuquerque. I'm obsessed with going to the gym and enjoying the company of my two cats, dog, and turtle.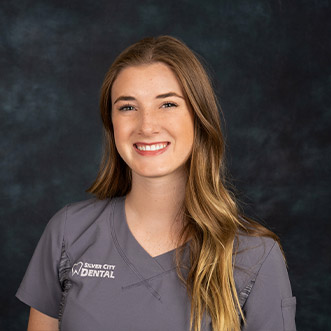 Maci
Front Office
I always have a smile on my face, whether I'm assisting the front office, back office, hygiene team, or Dr. Porter. Working directly with patients is my favorite — I love to make them smile!
Silver City Dental is such a happy place to be! All of my coworkers are easy to work with and very efficient. I feel lucky to say that I genuinely look forward to coming to work every day.
I was raised in Silver City along with my three brothers. I'm currently a senior at Silver High Schools and am also attending Western New Mexico University. I love to go hiking with my big dog named Maverick.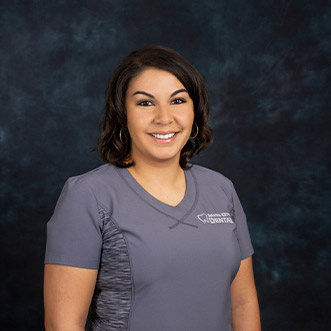 Michele
Patient Services Coordinator
I enjoy interacting with and getting to know our patients. I answer phones, schedule appointments, and handle office payments. I also check patients in and out and assist Dr. Porter and the team as needed.
I appreciate that the Silver City Dental team is family-oriented and focused on excellent patient care!
Beyond the office, I enjoy spending time with my family and friends. I am an avid hunter and like being outdoors.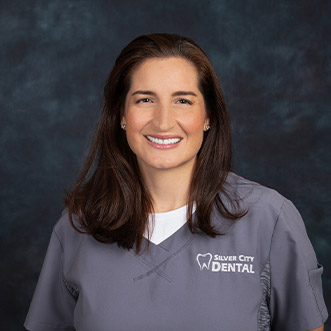 Rebecca
Dental Hygienist
My favorite part of being a hygienist is helping patients understand their dental needs and treatment to keep their teeth and mouth healthy. I really like making patients feel comfortable and well cared for in the dental setting. I offer preventive and maintenance care for oral health, as well as education to help patients learn how to care for their smile's health.
The dental team at Silver City Dental is extremely hard working and very caring toward the needs of everyone!
When I'm not working, I enjoy spending time with my boyfriend. We like seeing movies and biking around the local trails. I also enjoy working out and running in community races.
Sophia
Dental Assistant
I enjoy helping our patients have positive dental experiences, so they feel good about taking care of their oral health. I set up rooms for procedures, handle sterilization, work side-by-side with Dr. Porter during procedures, and do lab work.
I love working in a close-knit unit. Everyone at Silver City Dental cares about each other and our patients!
I was born and raised here in Silver City. I come from a big family, with five brothers, two sisters, and lots of cousins, nieces, and nephews. I'm not hard to please: I'm pretty easygoing and always try to be positive. I also believe family is the most important thing in life.
Staff
Dental Hygienist
Bio coming soon!